Cariló is the most exclusive beach resort in Argentina: 1700 forested hectares facing the sea, out of which 1100 are a natural reservoir.
It is only 6 km away from Pinamar and 360 from Capital Federal, most of the way being on a highway.
There are 5 km of wide beaches.
Streets perpendicular to the sea were named after trees and the ones parallel to the sea were given local bird names.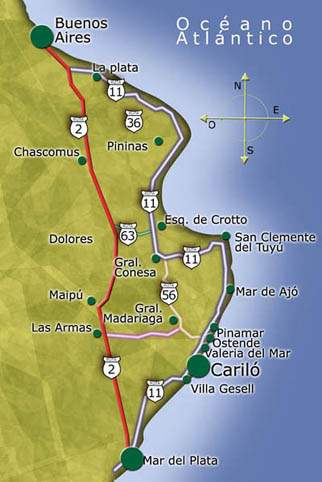 Cariló is:
68 miles from Mar del Plata.
199 miles from La Plata.
223 miles from Capital Federal
366 miles from Bahia Blanca.
391 miles from Santa Rosa
434 miles from Rosario.
484 miles from Parana.
553 miles from Santa Fe.
583 miles from Cordoba.
823 miles from San Luis.
963 miles from Mendoza.
1056 miles from Misiones
1280 miles from Salta.
¿How to get to Carilo?
Take road 2 up to approximately Km No. 206 (Dolores crossroads). Take the bridge up to Dolores and make 30 km up to esquina de Croto on 63. Take the No. 11 up to Gral. Conesa and from there, the 56 will take you to Gral. Madariaga. Take the 74 that will take you to Pinamar and No.11 to make the last 6 Km to Carilo.